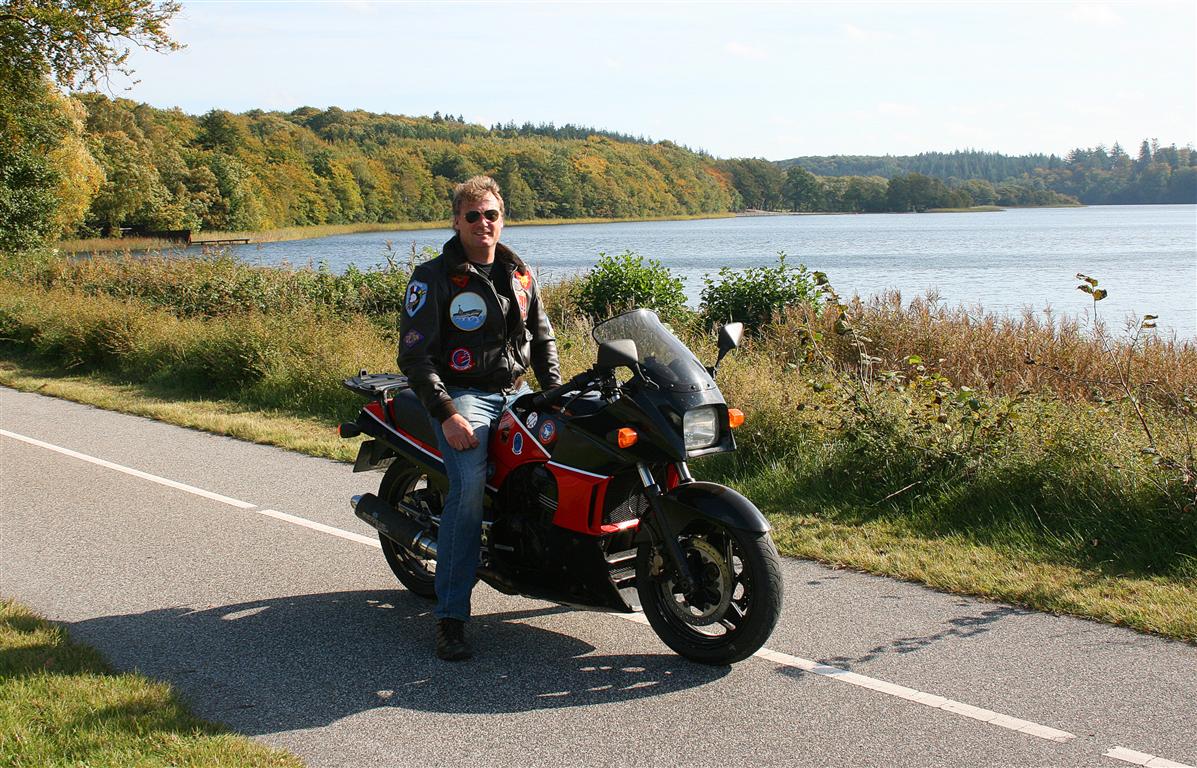 Kawasaki GPz
This project started the day I finally bought an 85´ 900 Ninja. Actually "Kawasaki GPz 900R A2" is more correct! "Ninja" is originally an american designation for it. -Later the name "Ninja" also came to Europe.
I used to ride Kawasaki, but it has been the "wrong" GPz-model, even though it looks a lot like the Ninja. In the past, specialists told me that the Ninja simply is a much better bike than the plane GPz, but I really didn´t value it more than distinguished highclass feelings. -Now I know better! Both GPz-models are great bikes, no doubt about that, but the Ninja runs more stabil and clean!! Well... Only thing the Ninja dosn´t have, the plane GPz has, is the BRUTALE ROAR, only a raw aircooled 4 can perform. I miss that aggressive metallic sound, the old GPz used to have, but I guess it is the only check on the list missing, compared to the Ninja, cause it´s watercooled and deliver a more moderate sound.
Confused??? I can understand that! -I have absolutly NO idea why Kawasaki made 2 parallel specialmodels, that much alike. That´s just the way it was at the time. Kawasaki even gave both models the GPz-designation... Everybody had the 2 models mixed up once in a while during the 80´s and I believe that someone at Kawasaki have some sense of humor after all.
In the early beginning, the GPz had the rear fork made out of ironpipe and had none or a very small fairing. These beautiful and raw bikes had a lot more enginepower than handling abillities and wobbling was quite normal. In 1984 the Unitrack models arrived with aluminium rear fork and monoshock and that really was an improvement to the control and steering. GPz 900R was the most luxurious model, but the GPz 1100 was the strongest with impressive 125 HP. At the time, the GPz 1100 was concidered the fastest streetbike in the world, even though the GPz 900R has about the same top speed, due to better aeorodynamics. -About 250 km/h. I believe that both models have enough power...
At the pics below, you can see the differences between the 2 1985 GPz models.
My good old GPz had the greatest enginesound in the world.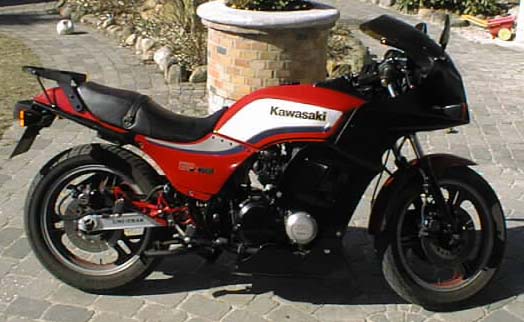 My GPz 900R like it was when i bought it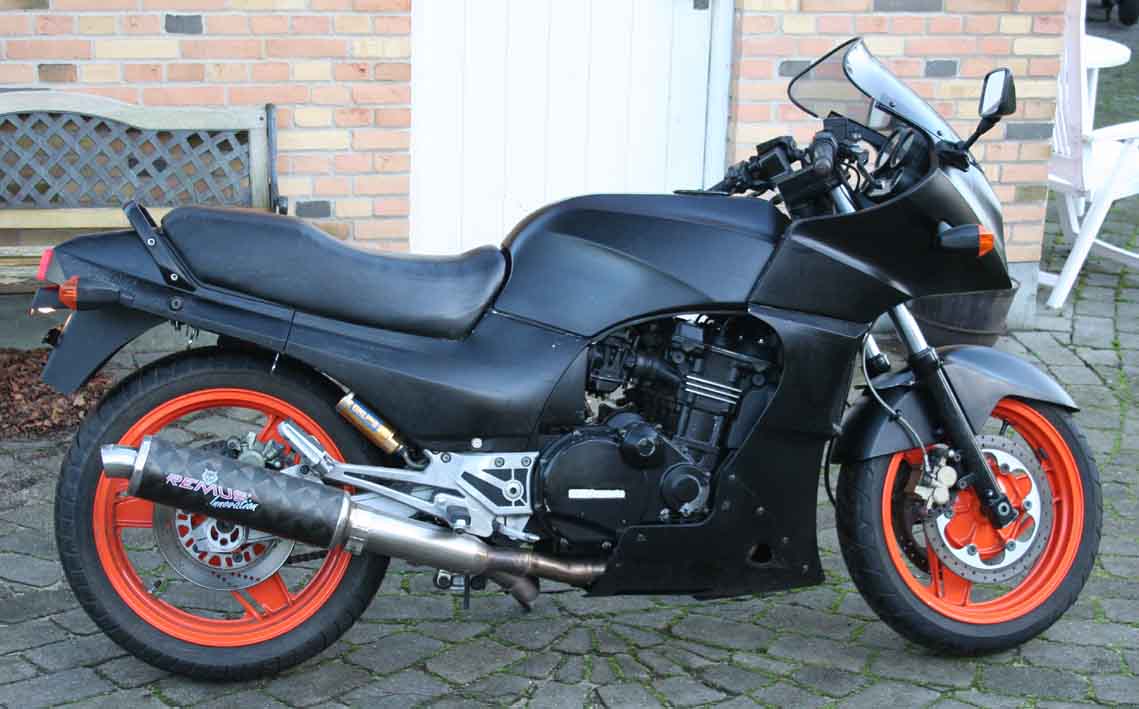 It would be easy to find better pics to show the differences between the models, but I choose to show pics of my own bikes. The Ninja like it was when i got it, paintet dull black with a spraycan and porno-orange wheels....
When in 1986 I watched the movie "Top Gun", I completely fell in love with the bike. I never managed to let it go, even if it´s a real boyish type of bike. When I finally bought one, all the dreams from the past, suddenly popped up in my mind again. Finally my wildest bikedream from my youth was reachable: A Top Gun Bike!
The mechanical starting point
As I mentioned, the bike was like the pic above to the right, when I bought it. I wasn´t really happy about the changes it had gone through, cause it wasn´t original anymore. Forks, front mudguard, wheels and brakes is from an ZX10. Rear mudguard was cut and exhaust system was changed into a 4 in 1, but worst of all, it was paintet with a SPRAYCAN. Besides that, the gearlever was broken.
BUT.... It was cheap, had a new engine and chainkit and tyres were quite new too. The monoshock was exchanged with the Ölihn system, an expencive but extremely fine solution.
Well... I had to admit that the better tyres, shocks and brakes, simply makes it better. I got the original parts in the bargain, but I chose to keep it like it was.
I ordered some parts via an english website: http://www.gpzzone.co.uk/ That is a great site for GPz-owners, where everybody can buy lots of GPz-parts, even at fair prices. Here is a great forum too, just like the old org.
Among other parts, I bought the original Kawasaki decals, cause I intented to design the bike like the animation below.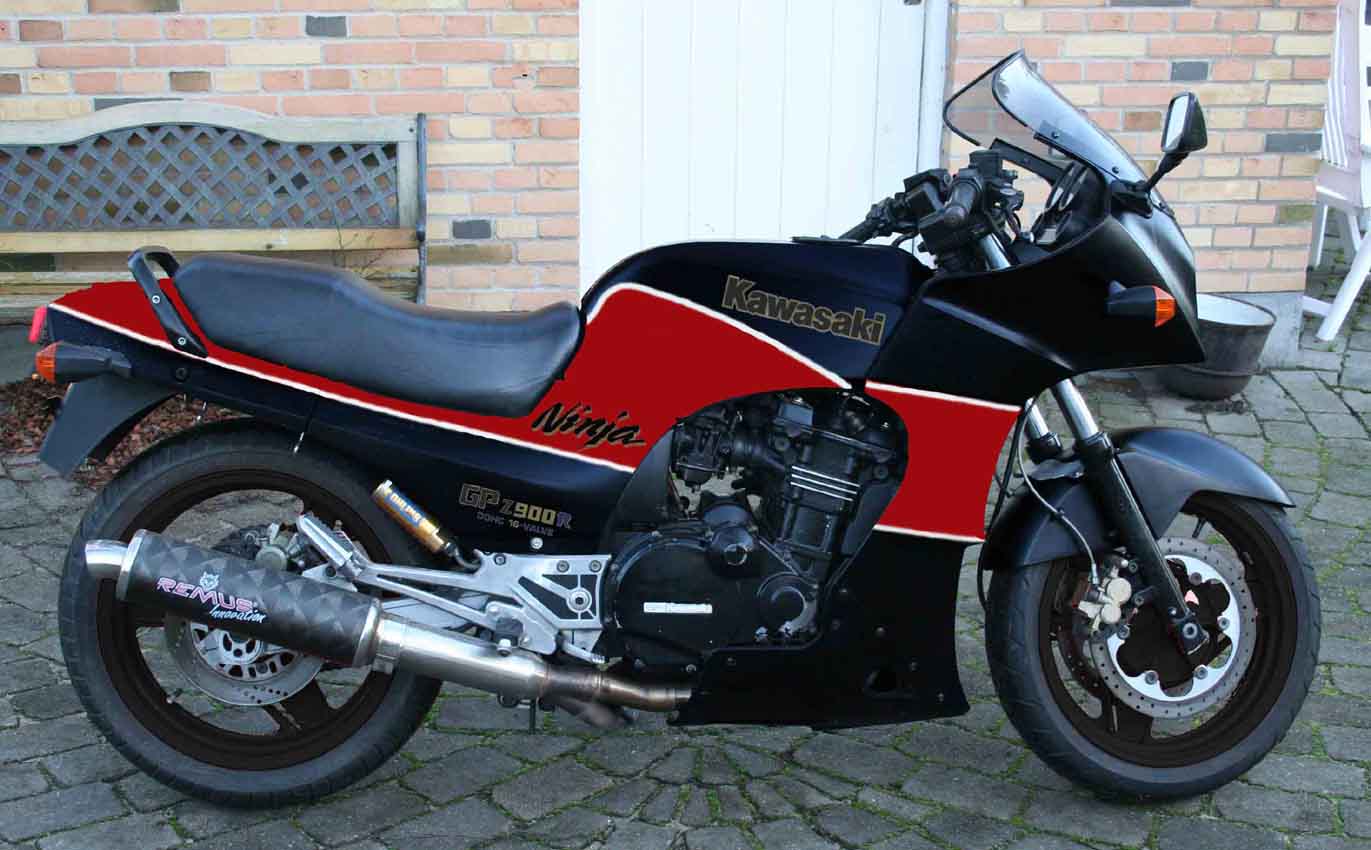 How did it actually look, that bike in the movie???
I used to join an english enthusiastforum: http://gpz900r.org. Unfortuneatly is was shut down, cause the orginator became ill. Cancer forced him to slow down and it simply wasn´t possiple for him to carry on with the org. Everybody at the site had a GPz and everybody had their own oppinion about it. It was an incredible useful forum, cause everybody wanted to help each other.
At the org there also was riders who had made their bikes "Top Gun style". Actually I´ve seen pics of more than one attempt to copy the bike from the movie, but none of them was accurate.
I changed my goal from some kind of a little look alike, to a more accurate copy. -I wanted it done right!
My first problem was to find out how the bike really looked, cause noone could deliver a single reasonable picture. Damn, there was a challenge!
I started hunting all over the net, looking for pics, also checking out the movie on DVD, frame by frame. I still had more holes than knowledge after hundreds of hours on the net, when the brakethrough came: I found the man who delivered the bike(s) to the movie in 1985.
His name is Mr Chris Dolan, still living in San Diego and still crazy about bikes, even though he sold his bikeshop.
Mr. Dolan is a very helpful man, who without questions, posted his personal photographs to me. He also kindly delivered a lot of valueble information about these bikes. Yes, BIKES, cause there were 2 bikes and for some reason they weren´t badget the same way!?!? -I still wonder why!
But suddenly it all made sense and now I know why I couldn´t make it fit with these damn stickers.
Well... I settled for a design, that I believe covers it the best way.... Something in between, if you like...
Pics from the movie. As you can see, the stickers aren´t placed the same way on the bikes. Look at the pics, of which the bikes are presented from the same side...
That´s really a goof, eh?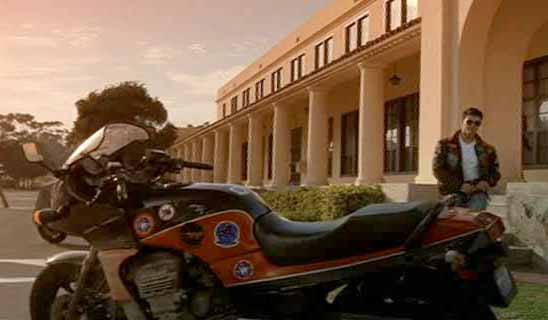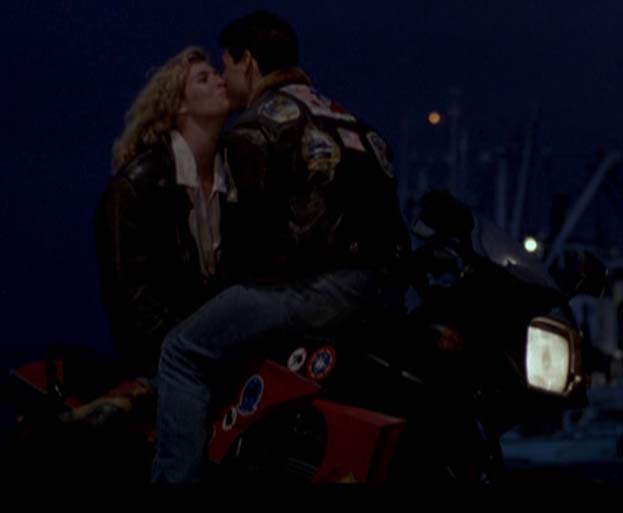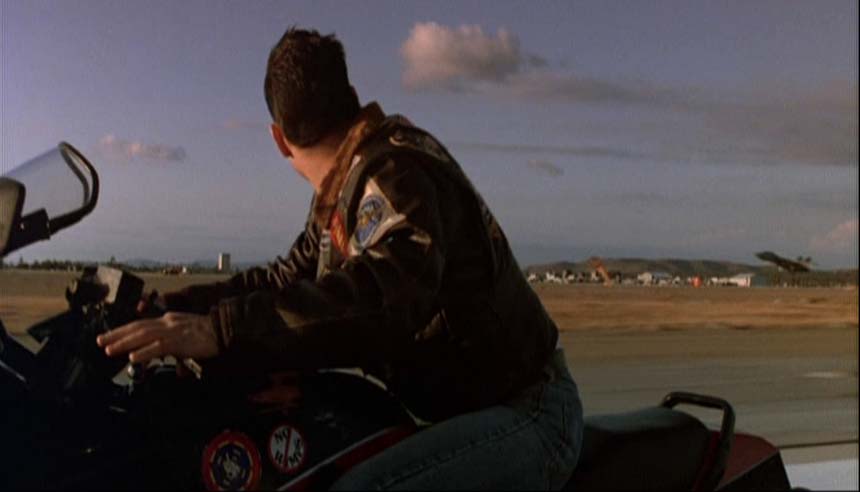 Mr Chris Dolan
Mr. Chris Dolan has been an invaluable help in this project. He used to have a bikeshop in San Diego and he was the man who delivered the bikes to the movie in 1985. Chris mailed some of his private pictures of the bike(s) to me. He also kindly delivered a lot of knowledge about them and answered a lot of questions. Besides that, Chris finally put an old discussion to the grave: The bike in the movie is of course an 900 ccm. -Not an 750... Chris allowed me to bring some of his pictures into this site. So.... Here they are:
Stickers!!!
So... How was I supposed to obtain these Navy Squadron stickers? Again the forum was a great help and someone suggested this website: http://www.military-graphics.com/ . Wow, these people collected a lot of stickers and most of the right ones to the job excists here. But a few of these squadrontags have changed a bit since 85´and besides that I needed a few civillian stickers too. I found a few of these funny civillian stickers, but somehow they weren´t right, compared to the ones on the bikes.
I bought the Navy Squadron stickers, but I wasn´t really satisfied with them, when they arrived.
I decided to recreate every single one in Photoshop, to get it right! Chris Dolan again was a big help, cause he could remember the details I couldn´t get out of the pictures. It took a loooot of hours, but I did it and then a sign writer printed them for me in the right material. -Whew... :-)
Since I spend a lot of time with these damn stickers, I also picket up a lot of information about them. It´s easy to believe that the moviemakers just grab some casual tags and throw them on the bikes, especially when they not even tried to make the bikes alike. Actually the tags fit perfectly to story and subsequent I´ll try to make a short rewiew for every sticker.
I dont know the original sizes of any of them! But I´ve got a lot of requests about this issue, so the sizes in the description, are just how I measured my own stickers.
"Unitid States Navy Fighter Weapons School"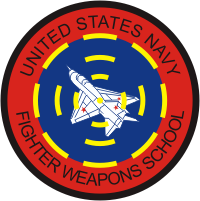 This is the official name for the Top Gun School. A school for learning air to air combat. -"Dogfight". In the middle 80´s, Top Gun was located in Miramar, Fightertown, near San Diego California.
This sticker is placed several places on the bikes: Each side of the tank, on both sidepanels and on the rear panel.
On my bike, it´s 91 mm wide.
---
"Fighting 114"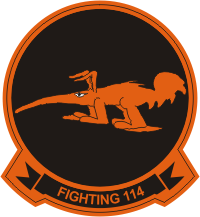 "Fighting 114" = "VF-114". A Navy Squadron tag. "VF-114" was founded in 1945 as "VBF-19". Later it changed name to "VF-192", and then finally renamed again to "VF-114" in 1950. This Squadron, naturally, used to fly with a lot of different planes and have been in action in several battles, ex. Korea. In 1975 "VF-114" was assigned "F 14 Tomcat". This Squadron has been connected with different Aircraftcarriers and in middle 80´s it was located on "CVN-65 USS Enterprise", like the movie says. At the same time (1985) "VF-114" was going through some trainingsessions in Miramar.
This sticker is placed on each side on the tank, unlike each other.
It´s 76 mm wide and 86 mm high, on my bike.
---
"VF-213"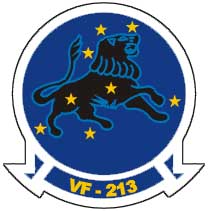 "VF-213" = "Black Lions", also a Navy Squadron, founded in 1955. In 1961 it was based in NAS Miramar Fightertown. In 1976, "VF-213" also got the "F14 Tomcat" and later that year, it was connected to "CVN-65 USS Enterprise". When the movie was shot, this Squadron was on board on the ship and was equipped with Tomcats, so also here the story fit.
The border on the sticker has changed color from white to black, since then.
Also this sticker is placed on each side of the tank, unlike each other.
It´s 78 mm wide, measured on the tips of the banner. It´s 82 mm high.
---
"No 55"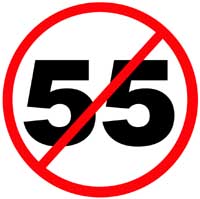 Trying to save fuel, the govenment in USA created a 55 M/ph speedlimit on the highway. It wasn´t exactly popular and this sticker signals a discontented aditude. Sammy Hagar performed a rocksong about the subject, called: "I can´t drive 55".
This sticker is still on the market, but it´s written with other fonts, compared to the ones on the bikes.
It is placed on the rear panel.
It´s 65 mm wide.
---
"No Bullshit"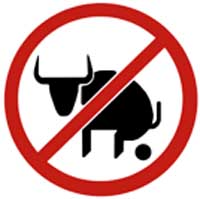 "No Bullshit". -Speaks for itself...
Also this sticker exists on the market, but for some reason, it has been mirrored since 85.
This sticker is placed on one side of the tank. Oddly enough, it´s not placed on the same side on both bikes!?!?
Also this one, has a 65 mm diameter.
---
"No Wimps"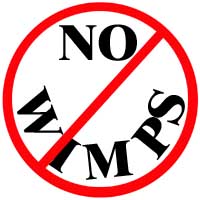 "No Wimps" Also speaks for itself.
I have not been able to find this sticker anywhere. -I believe it´s off the market...
Like the "No Bulshit" sticker, this one is placed only on one side of the tank, also in different ways on the 2 bikes. It can actually be seen in the movie and must be characterized as a regular goof.
Also 65 mm.
---
"No Turkey"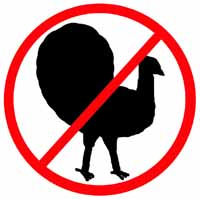 "No Turkey" is a rebus, cause the word "turkey" also means other things. I guess the message is something like: "Not for loosers"
I couldn´t find this sticker on the market either...
These stickers were placed on both bikes, during the movieproces, but obviously removed again, cause it only can be seen in the "Take me to bed or loose me foreever" harbourscene in the nighttime. I chose not to place them on my bike at all.
---
"VF-51"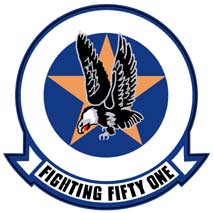 "VF-51" = Screaming Eagles". Until its disestablishment, VF-51 was the oldest fighter squadron in continuous service with the Pacific Fleet. VF-51 has victorious been to war in WW2, Korea and Vietnam.
In 1985, VF-51 was one of several NAS Miramar based squadrons to participate in the filming of Top Gun. Some VF-51 and VF-111 aircraft were repainted in fictitious squadron markings for the film. Mike "Viper" Metcalf (Tom Skerritt) mentions VF-51, and several pilot names are mentioned during the end credits.
This Sticker is placed on top of the tank.
---
"Tomcat"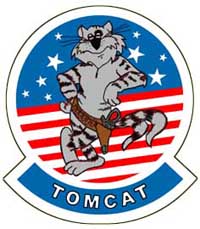 "Tomcat" is a nickname for the plane "F14". I guess the official name is "F14 Tomcat". There exists a lot of different Tomcat-stickers, but most of them looks a lot like this one.
I placed this one on top of the tank, where the VF-51 sticker is supposed to be.
It´s 76 mm wide and 89 mm high.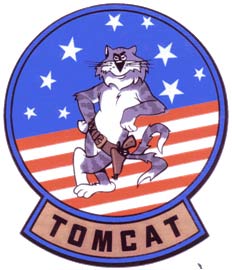 Former naval aviator Bill Montgomery enlighten that this is the sticker on the lower fairing.
It is a standard Tomcat logo.
---
"Navy Wings"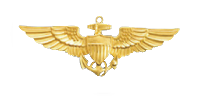 "Navy Wings" is the symbol of being a US Navy pilot. The pilots wear a brasstag like this on their uniform.
I put one of these on each side of the tank, where there is a big scratch on the original bikes. For some reason, the producer wanted the bikes to look trashed and added scratches with a wire and mud all over them. Rediculous, cause it can´t be seen in the movie at all. Actually the moviepeople got carried away a bit and crushed a piece of the fairing, so they had to get back to Dolans shop for repair.
---
"USS Enterprise"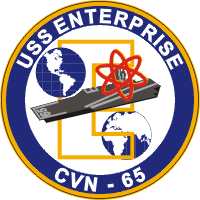 "CVN-65 USS Enterprise" is the aircraftcarrier in the movie. From a historic point of wiew, the story in the movie fits perfectly with the stickers, cause the Squadrons actually was located on the Enterprise at the time.
This sticker does not exist on the bikes. Not on mine either, but is only shown for knowledge.
---
The animation below, shows the new plan .... to get this result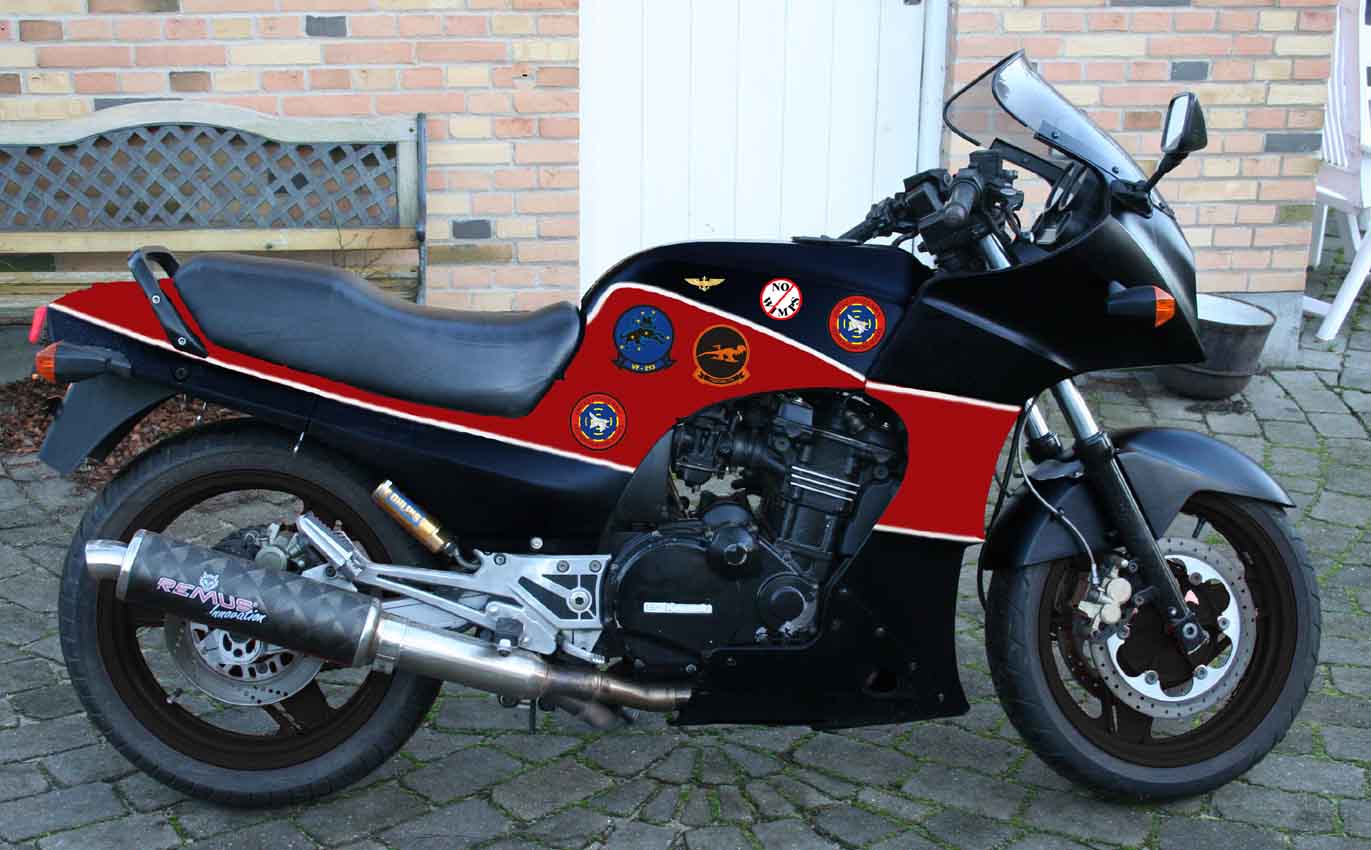 Spraycan paint
As mentioned before, the bike was paintet with a spraycan when i got it. I talked things over with a friend who has a workshop, painting cars and bikes. He had no doubt: That kind of paint is NOT compatible with the kind of paint cars and bikes usually are paintet with. There was only one way: Wash off the spraypaint with thinner. I don´t think I have to explain my oppinion about that LOOONG day we washed off that shitty paint. Well... If anyone ever gets in the same situation, the easiest way to do it, is to lay a dishcloth with thinner on the object a few minutes and then wash it off with fresh thinner.
Out of the dark came a blue / silver A2...
Cellulouse Thinner
Ooh man, not knowing is evil, and neither my father or me are used to do paintjobs on bikes. -Guess who learned it the hard way? My father is involved in this tale, cause he had a bucket of black "Machine paint". I called my friend for advise and he told me that if the "Machine paint" contains hardner as a second component, there would be no problems with the other colours thereafter. We painted everything black and the "Machine paint" actually was quite easy to deal with. Therefore I called the company, asking if we could get the other colours too. In 5 minutes I was informed that this kind of paint absolutely NOT could go with ordinary carpaint or clear varnish. So.... We washed everything down with thinner once again.... SHIT!!!
I then bought all the right materials... Considering it is an amateurs job, it actually became quite good and I am fully satisfied with it. The process is like this: Stopping, filler, black, red, white, stickers, clear and clear again.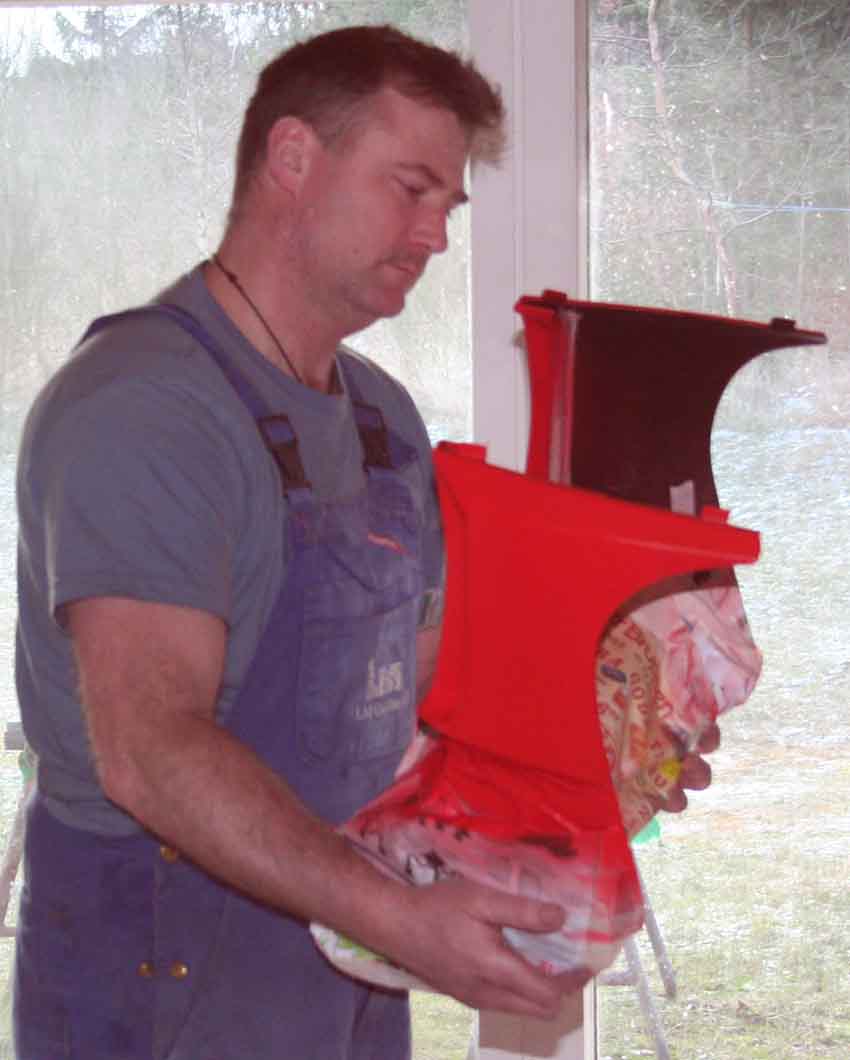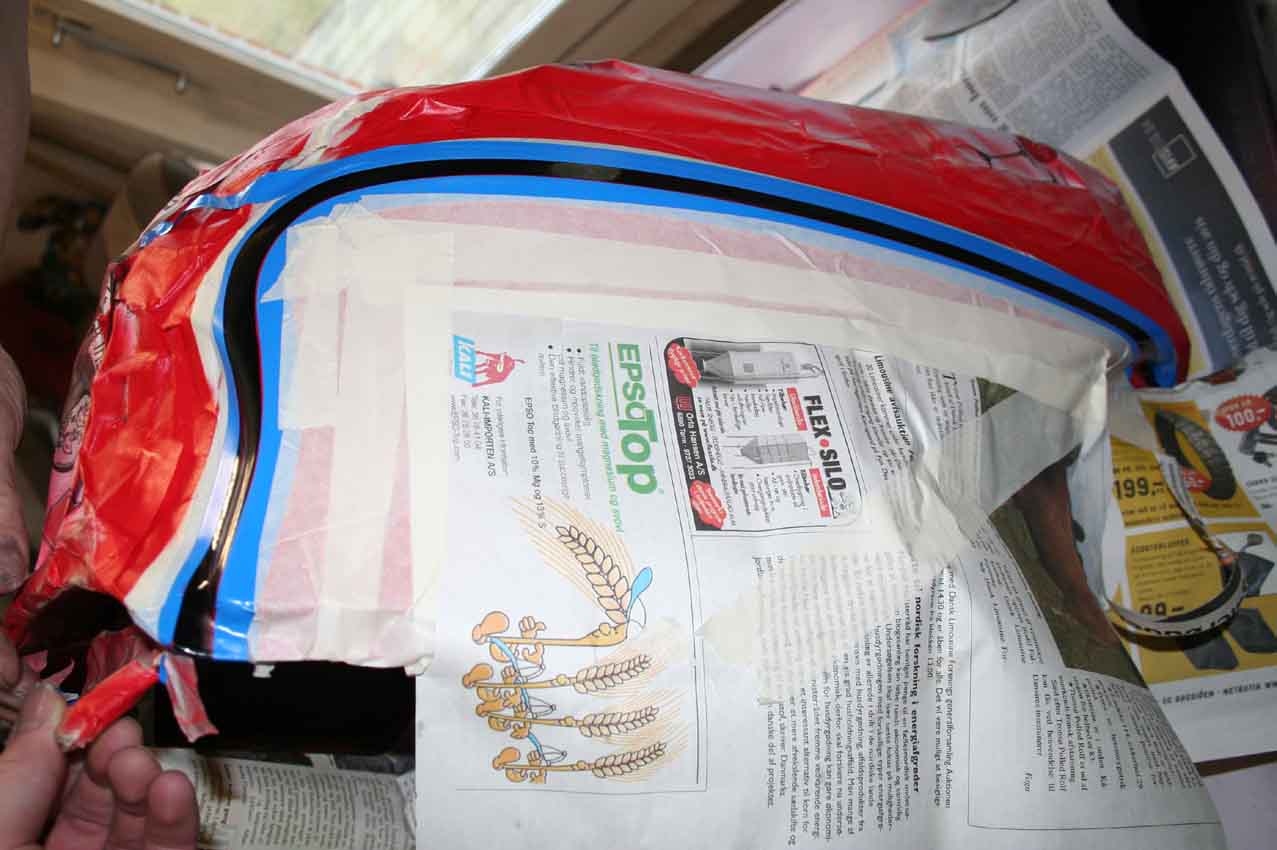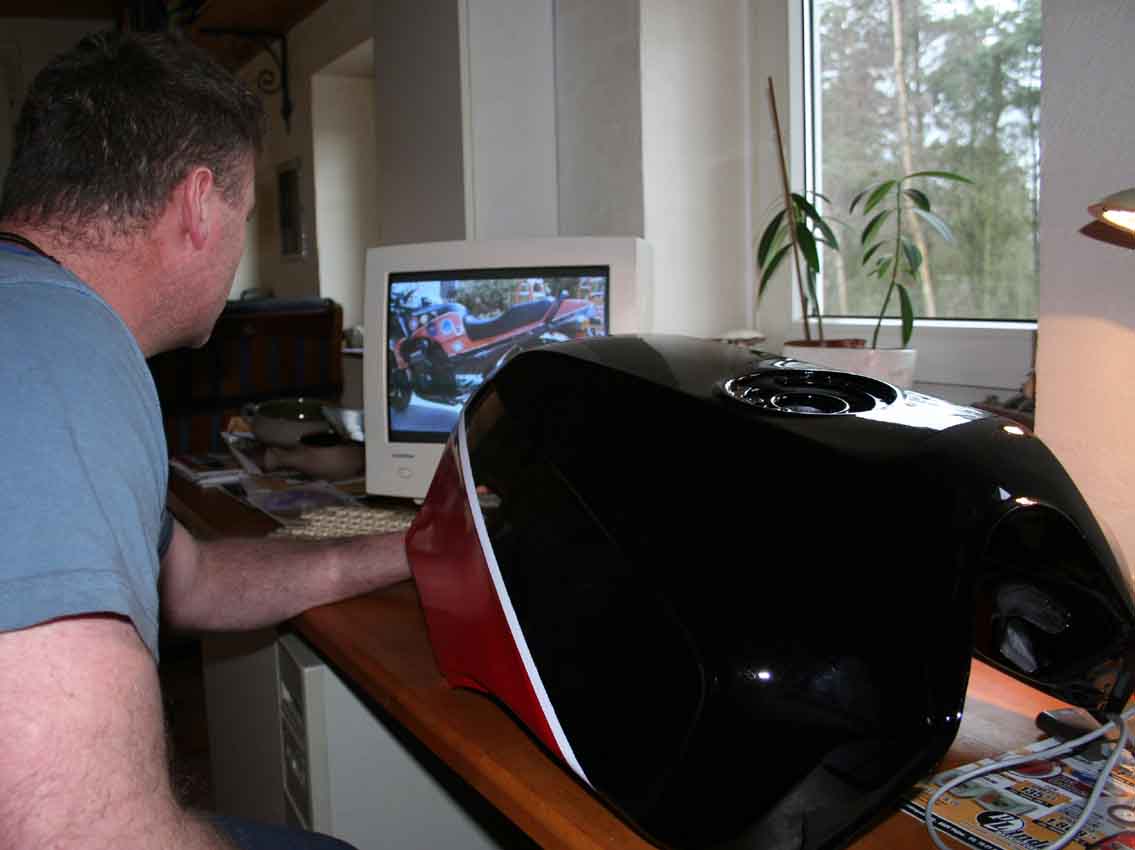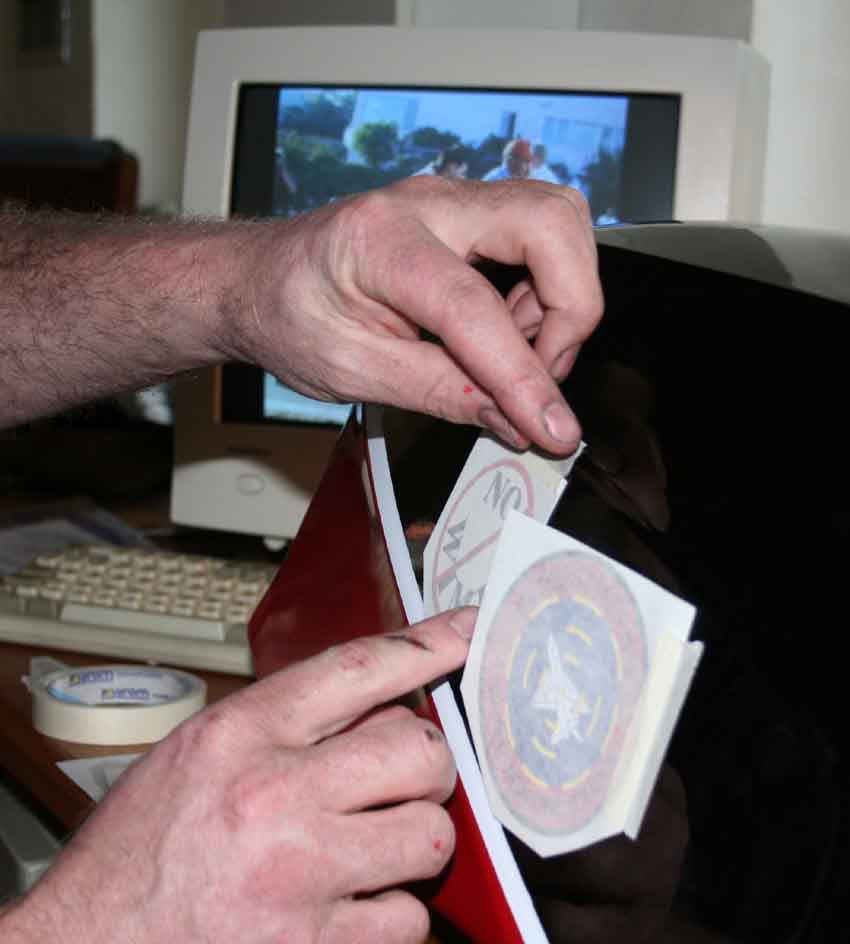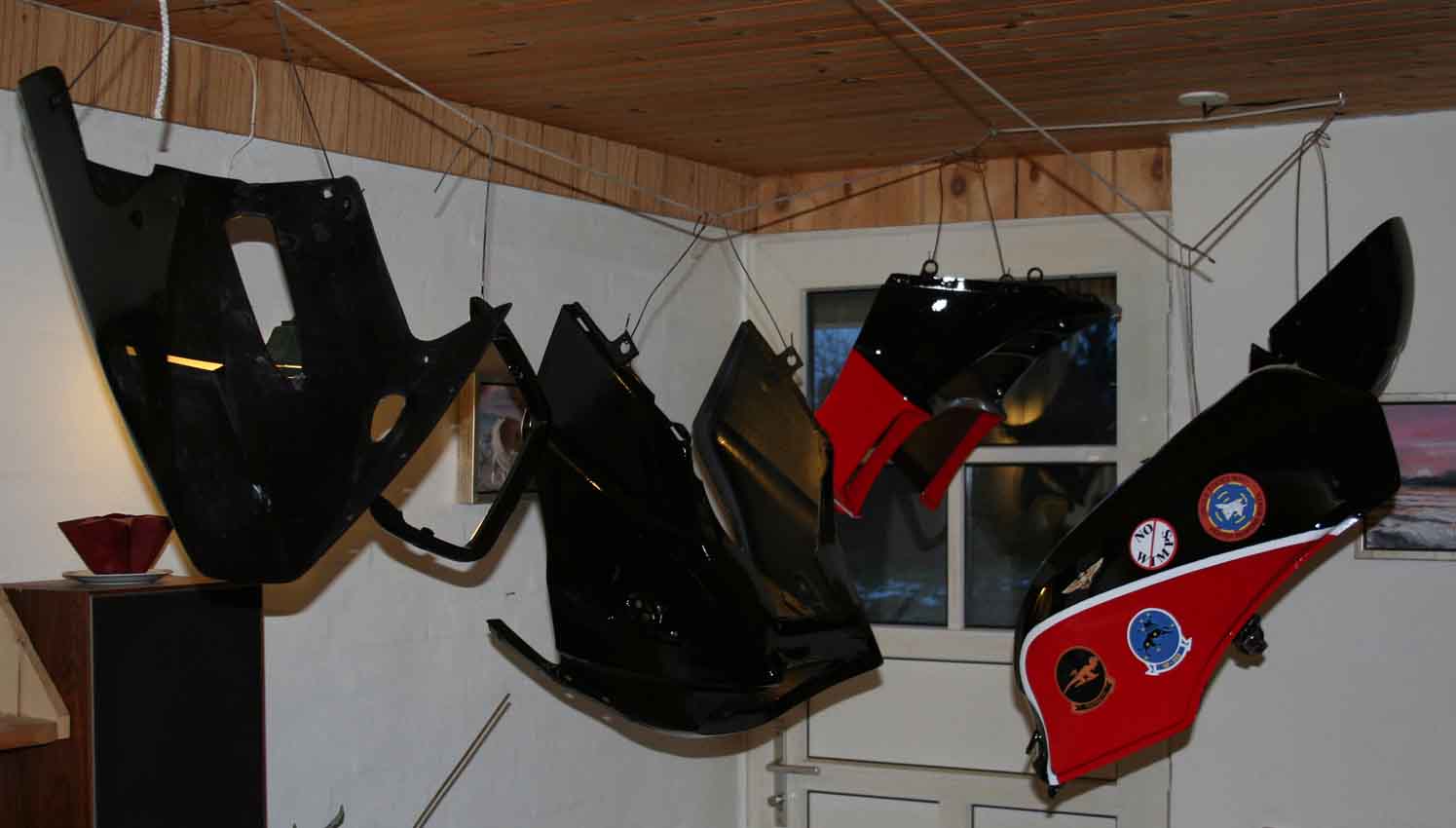 Mechanics
Now that all plasticparts was removed, it was quite easy to work with the engine. Bo told me that the top oilpipes should be exchanged with bigger pipes, if it hadn´t been done allready. On the early models, these pipes simply were too small and couldn´t deliver enough oil to the camshafts. So if I pushed the engine too hard, there could be damages on the camshafts. Bo is an expert and know all about cycles from the 70´ and 80´. -More about Bo later...
I also adjusted the valves (of course) and changed oil and filter. At last the engine was paintet.
In the turning lathe, I made a new shaft to the gearlever in stainless steel and fit it in the cover with an Unbracobolt and Araldit. -THAT will hold!!!
Finally...
At last...
A happy kid with a dream come true.. :-)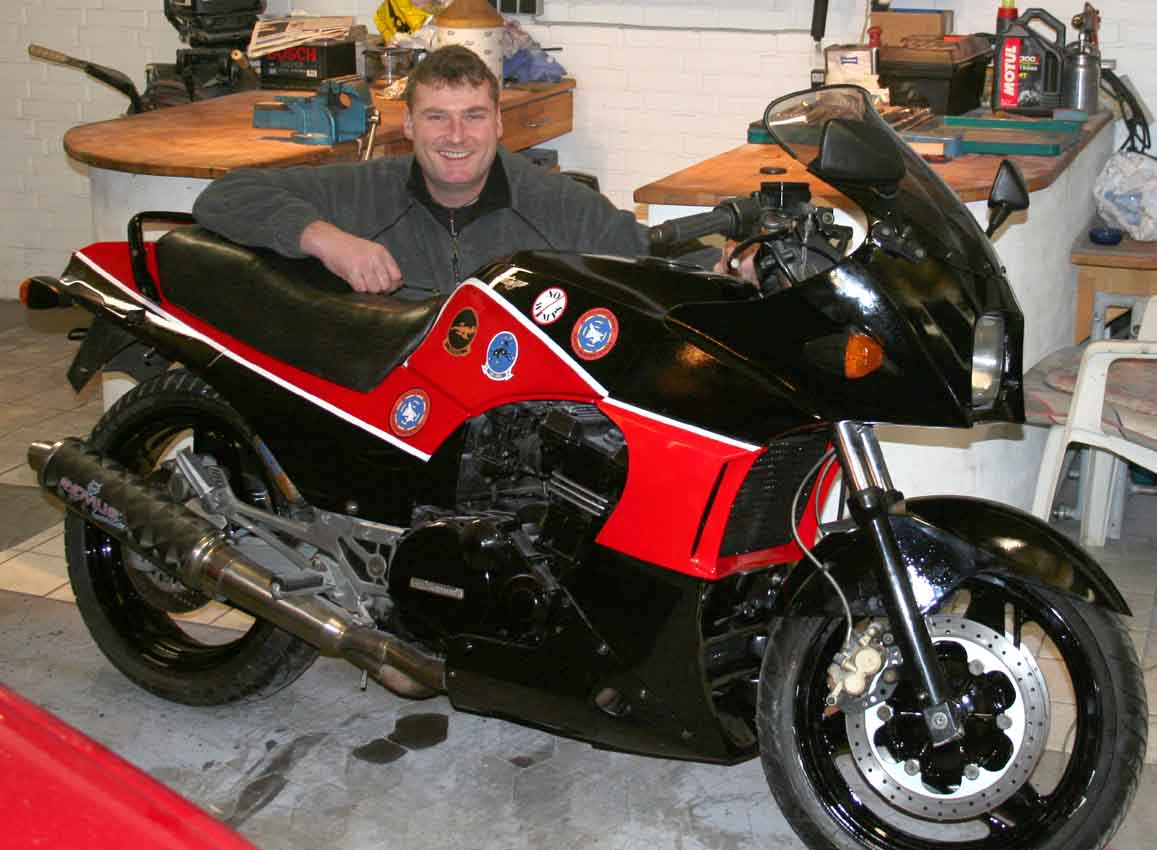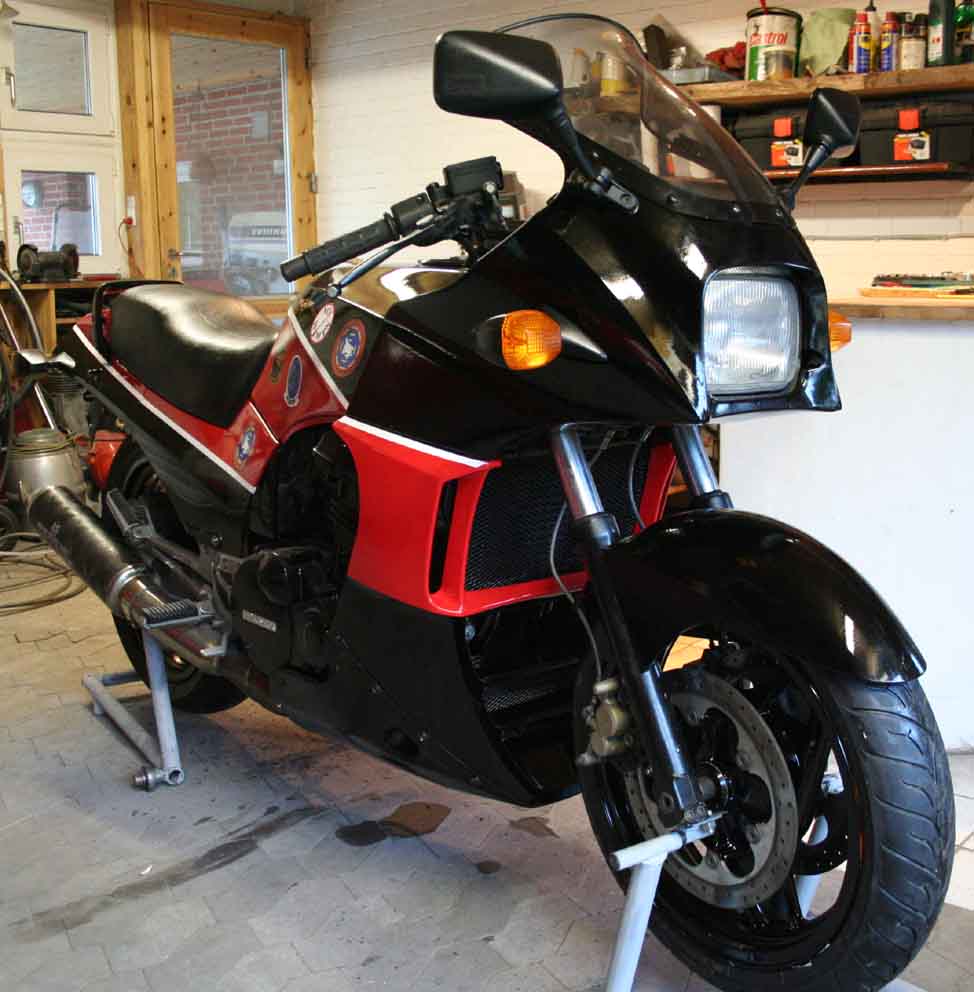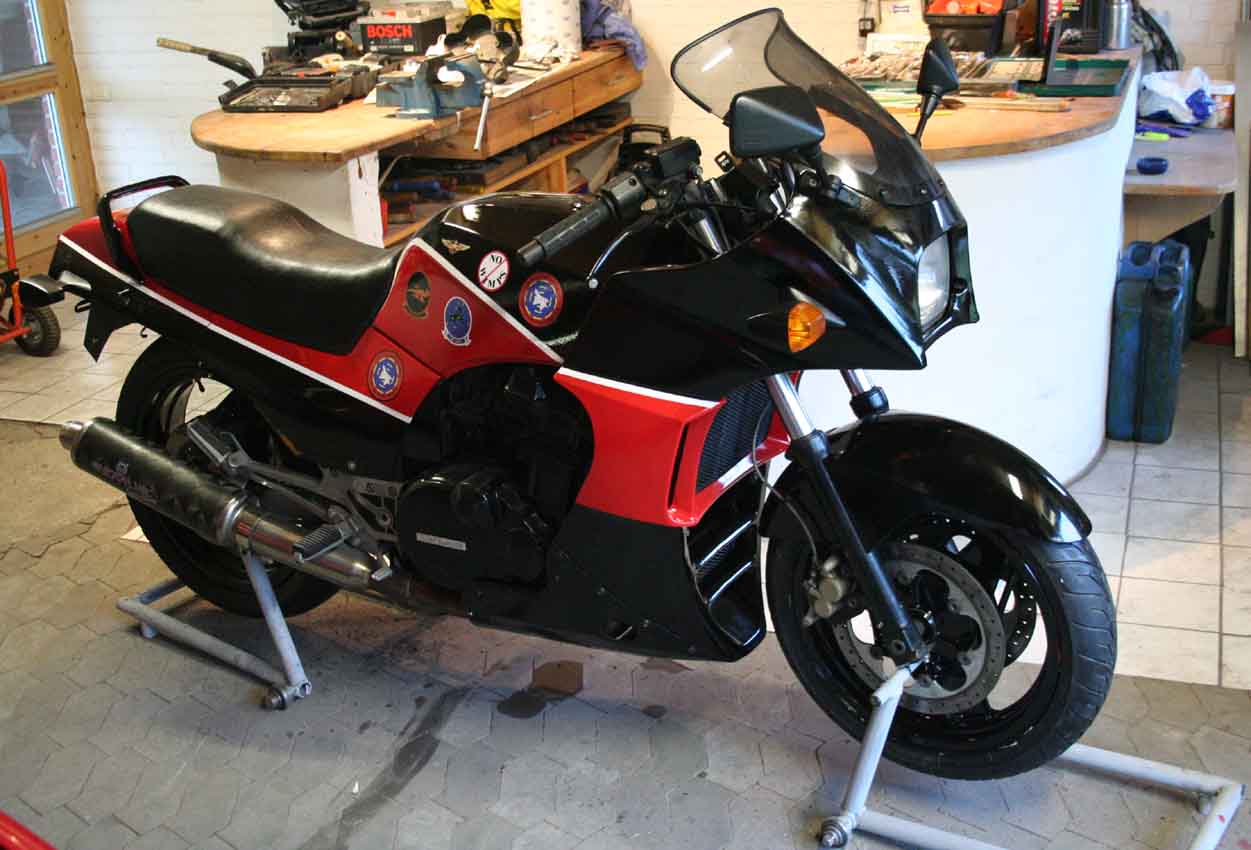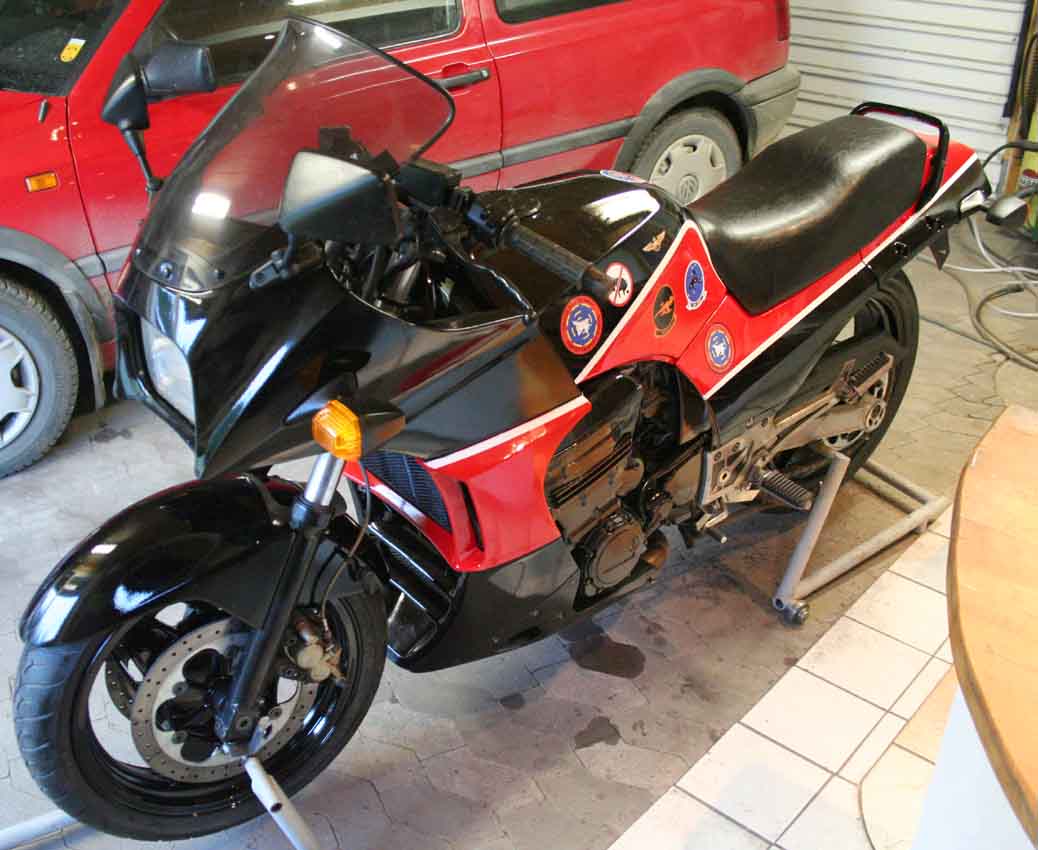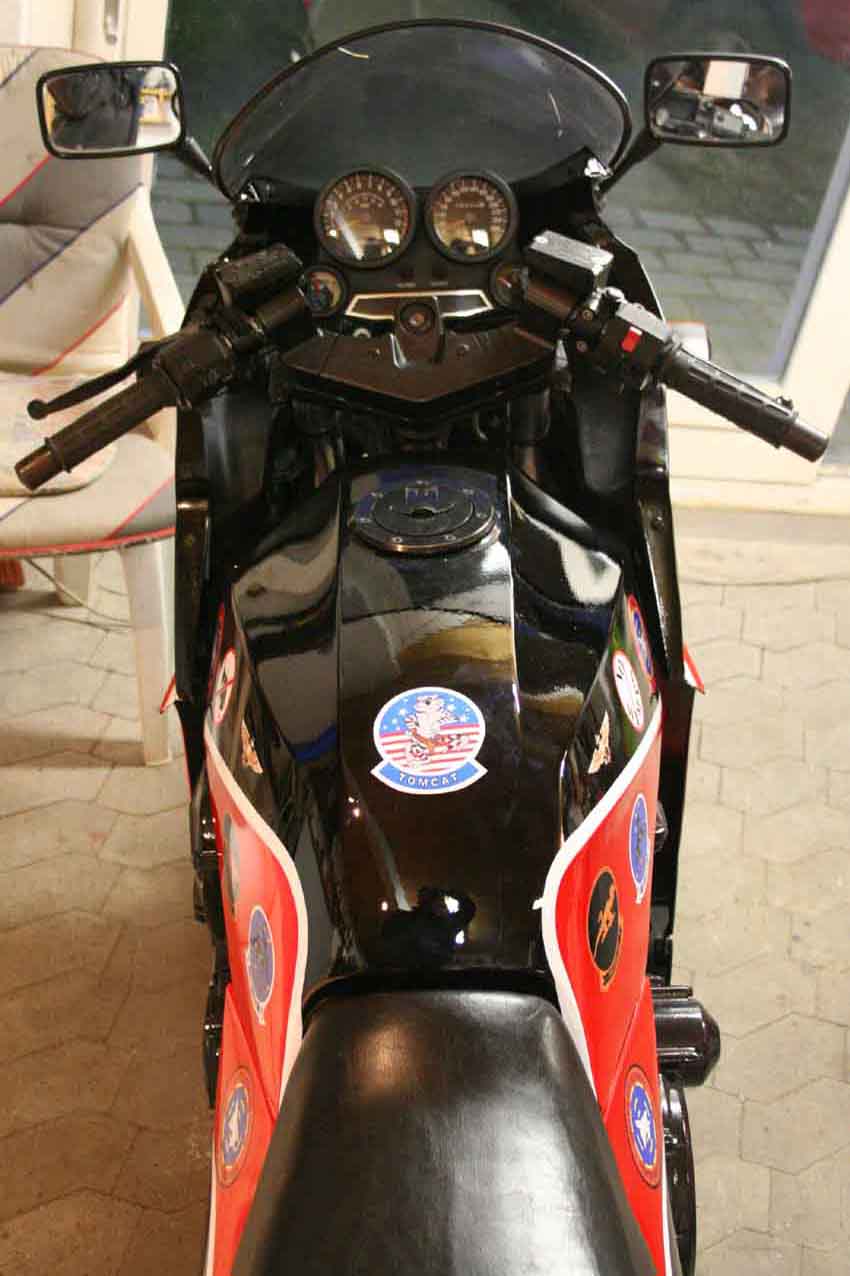 I'm very happy with the result, so I wouldn´t want it any better. It was a great project and I really enjoyed it. I want to say thank you to some people, who make it all possible.:
Speciel Thank´s to mr. Chris Dolan, for making this possiple with pics and information from the past.
My father. Thank´s for good company and all the wonderful hours, and of course qualified help.
The people at http://gpz900r.org . Thank´s for advice, pics, interest and backing. -Miss you...
Bo.. Thanks for parts and valuable advise.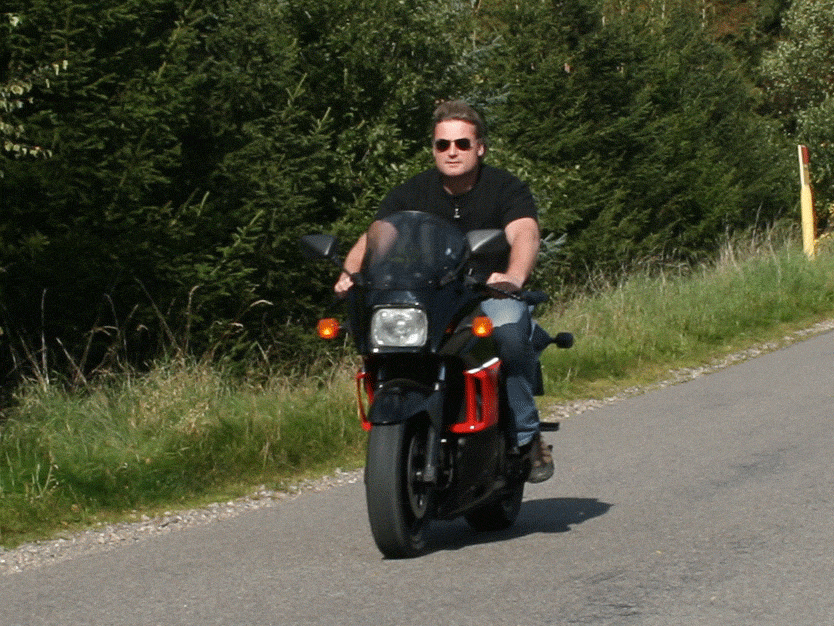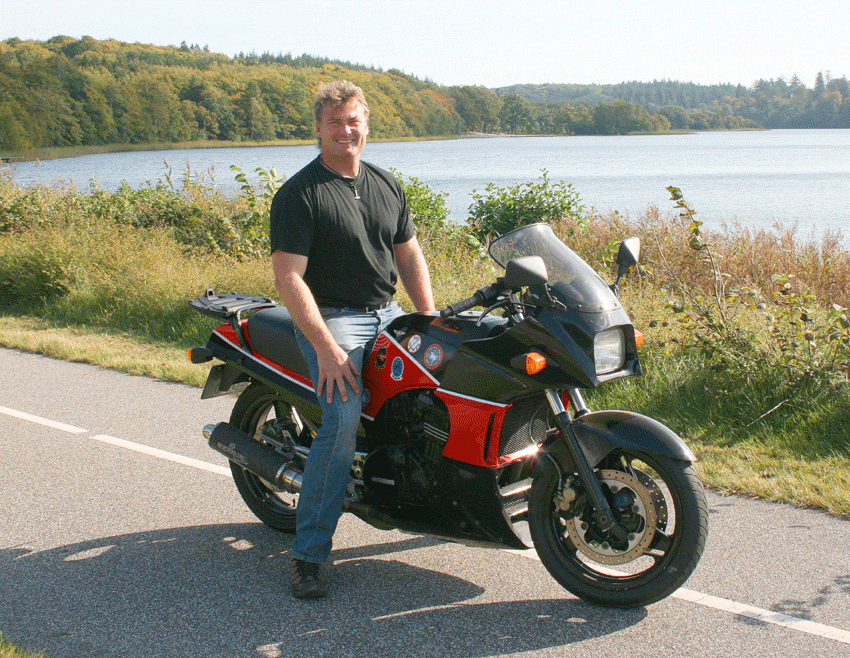 Kawasaki GPz 900R - Weak spots
A lot of people ask me about weak spots on the model. Mainly people who intend to buy a GPz, wants to know what to look for, so they dont come home with a wreck. Actually it´s quite a strong model, but everything gets worn and the GPz, just is an old bike. Due to it´s power, many of the bikes, tempted the owners to ride them agressively and it certanly dont make things better. If I went out to buy a GPz, I would specielly be aware of these things:
Oil pipes
On the early models, the top oil pipes, simply were too thin. Kawasaki delivered them for free, so owners could replace them. Nowadays they must be bought, but they are not expensive. If these pipes never was replaced, the camshafts might be ripped.
2. Gear
If it jumps out of 2. gear, into Neutral, the shifting mechanics must be repaired. It can be done, but are much to expensive, so an issue like this, actually means that the whole engine must be replaced.
Fairing
The fairing parts are difficult to find and generally quite expensive. Take a close look at the main fairing, behind the indicator lights! -Often there will be cracks, hidden behind these indicators...
Forks
The early models, were made to fit the old standards of tyres. So the narrow forks, can not be fitted with modern tyres!
Fuel tap
The fuel tap are quite special on a GPz. The vacuum controled tap, are wonderful to drive with, cause it didn´t have to be operated at all and it´s not possiple to forget to open/close it. But when it starts to leak, it must be fixed.. AT ONCE! It´s not a problem to fix and a repair kit, doesn´t cost many $. But if it´s alowed to leak fuel, the gasoline will find it´s way through the carburettors, pass the pistons and into the sump. Gasoline in the oil is a bad mixture and it will reduce the lubricity significantly. A lot of GPz engines overheated and burned on that account.
Fuel tank
A lot of fuel tanks are rusty and must be replaced. The corrosion often hits the weldings, so if you find gasoline along the bottom, be prepared to look after a new tank. They can be hard to find!
Exhaust pipes
Corrosion also attacks the pipes. Original pipes are almost impossiple to find, so aftermarket systems will mostly be the chosen solution.
Speedometer
The speedometer drive are made "lightweight" and are not the strongest part of the bike. Parts can be an issue to find.
Waterpump
The GPz have a great cooling system. But the gasket parts and O-rings just dont live forever. As a result, oil and/or water starts to drip out of the pumps draininghole. The oil leak will increase and soon a repair is needed. It´s possiple to find 3 different types of pumps on the GPz. 2 of them can be repaired with a "Rep kit". The last model, can not be repaired and must be replaced.
Radiator pressure cap
On the early models, the radiator pressure cap, was adjusted to 0,9 bar. It simply wasn´t enough and the water started to boil and the engine overheated. Later models were supplied with a 1,1 bar cap and the problem was solved. Make sure to wear a 1,1 bar cap!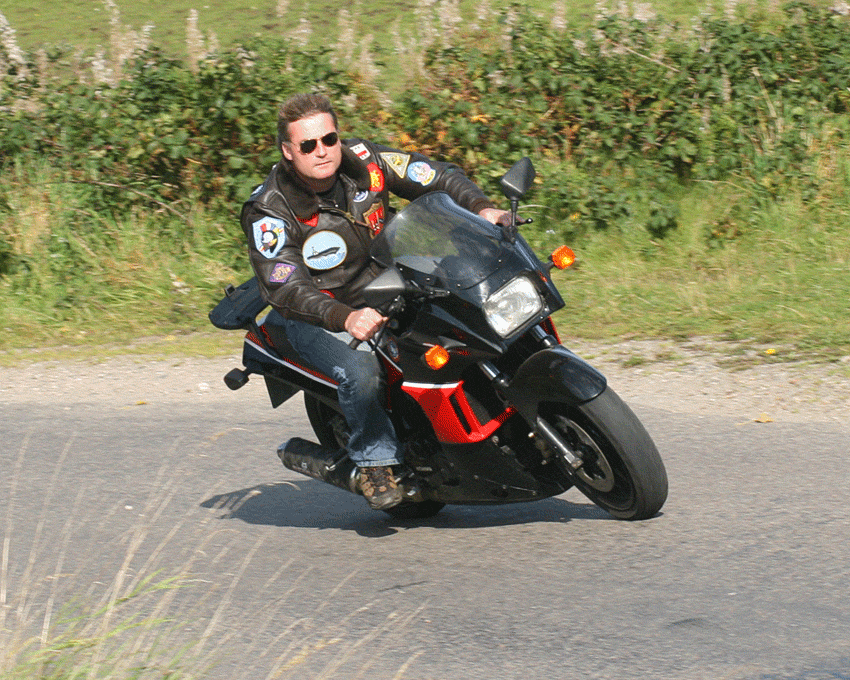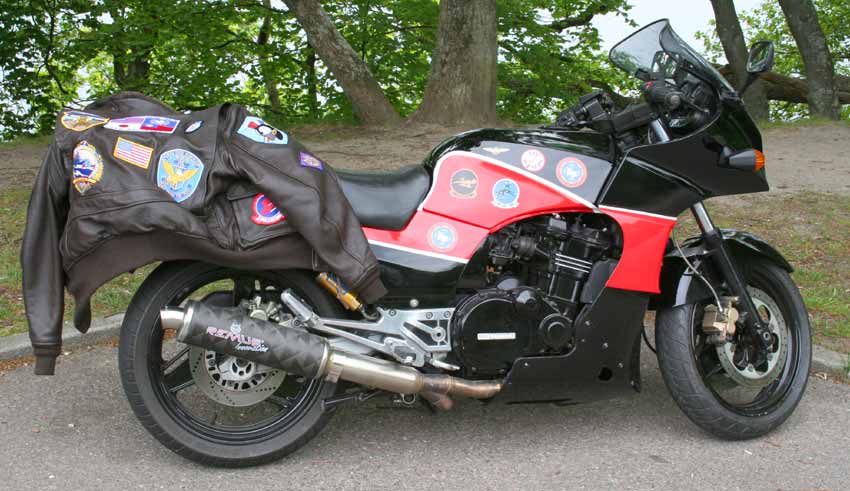 Leather jacket
Well... When the bike was done, it seemed naturel to take a look at the jacket too.
The jacket is an american flight jacket, used by pilots in the Navy and the Coastguard. The model is called "G1" and excist in brown and black colours. It can be made in either ox og goat skin. Today the pilots, of course, not fly with these jackets, but many of these wear them when they are off duty. In USA it is a quite normal jacket. -A historic issue.
By the zipper, letters are stamped with holes, saying "USN" for the Navy jacket and "USCO" for the coastguard jacket.
Patches
The jacket in the movie must supposed to be Mavericks fathers jacket, cause there is patches from very different time and places. I quess that it signals that both father and son added some patches.
I was lucky to find a complet set of patches on Ebay. The american dealer who sold me this set, assured me that it is excactly like the ones in the movie.
I dont know much about these patches. I quess most of them speak for them selves. Anyway... If you know anything about one of them, you´re welcome to send me an Email...
Well... Here they are shown in a gallery. The rulers show the size in centimeters.
No one knows why, but the producers prefered to change these logos...
Quote from Bill Montgomery: "The patch on the pocket of your flight jacket is the insignia of the VAW-110 "Firebirds", the West Coast E-2 training squadron (since disestablished) and not a fighter outfit at all."
And: "It made for a nice inside joke among E-2 folks and somewhat irritated our fighter buddies."
Bill also delivered these memoirs:
"The extras in the stands during the volleyball scene in Top Gun were student E-2 pilots in VAW-110. A couple of them came to my next squadron, VAW-115 aboard USS Midway, permanently forward deployed to the Western Pacific and homeported in Japan. Most of us were at the Far East premier of Top Gun the next year at the theater on Naval Base Yokosuka, Japan. Lots of our air wing attended, and most of the senior local officers from the Japanese Maritime Self-Defense Force (their navy) were invited and had seats up front. They got into it even more than we did – it was pretty interesting to see a bunch of Japanese captains and admirals jumping out of their seats and yelling "Banzai" in the air combat scenes."
"And actually, Top Gun wasn't the first movie I crossed paths with. I was in VAW-112 aboard USS Nimitz when they finished filming "The Final Countdown" with Kirk Douglas and Martin Sheen. Not a huge dramatic success, but it probably had some of the best air-to-air photography prior to Top Gun. Lots more stories about that one!"
Thank you Bill! :-)
---
Bo´s Mc
In more than 20 years, Bo was working in the biggest bike-workshop in Denmark. He was the cheifmechanic and is known in the business as a very reliable and a spectacular motorcyclemechanic. Bo is an expert in 70´& 80´ bikes and almost has status as a guru, for the motorcyclists. I personally have an experience where other bikemechanics couldn´t find the problem with a bike and told me to go to Bo, who immediatly knew what was wrong. He simply know the weak spots on a hell lot of bikes. Now Bo has a workshop of his own.
I really can recommend it..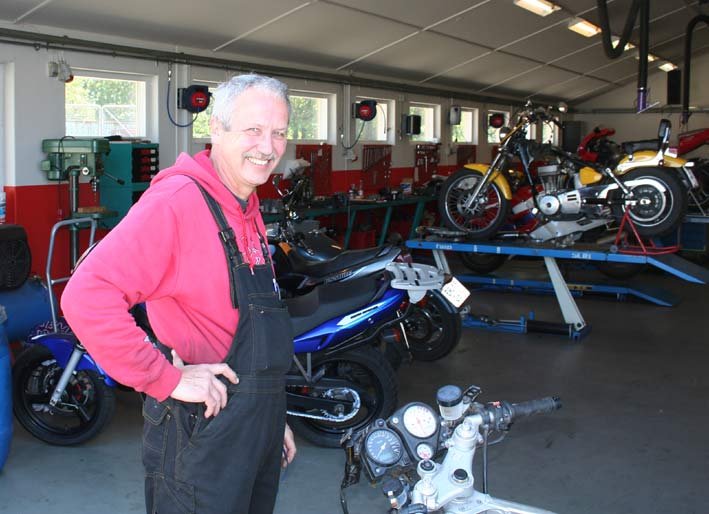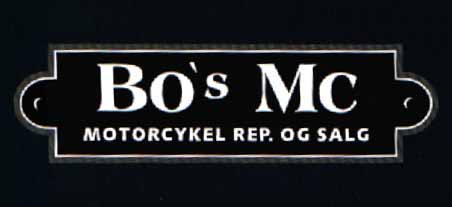 ---
Gallery :-)
It seems like I´m not the only "Top Gun bike crazy" guy in the world. Actually I have recived Emails from all over the world about this webpage, all very positive. I´ve even been contacted of a owner of one of the original bikes. Nice to know that I have some kimbered spirits! ;-)
Some of these wonderful people even made a project similar to mine. I recived some pics of a few of these projects. The owners allowed me to bring these photos here, so I can enjoy them with you. Thank you everyone, for the wonderful pics of your fantastic bikes.
Here they are.. :-)